Nintendo reportedly cancelled Zelda and Star Fox shows over Netflix leaks
Company said to have "freaked out" after Netflix allegedly leaked details to the media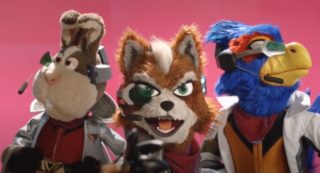 Nintendo reportedly cancelled plans for a live-action Legend of Zelda series and Star Fox claymation show after Netflix leaked details to the press.
That's according to comedian and voice actor Adam Conover, who claimed that Hollywood production company CollegeHumor was set to work on the Star Fox show before Nintendo abruptly stepped away from discussions.
"This probably means nothing to anybody, but it's a story that I feel like I can tell now," he said in a newly-published video. "In 2015 there was this news that Netflix was going to make a Legend of Zelda television show… it was supposed to be live-action show and it got a lot of coverage in the gaming press."
He added: "At the same time I worked at CollegeHumor and we had a secret project where we were going to make a claymation version of Star Fox with Nintendo. I know this because Shigeru Miyamoto came to our office and I remember that because I asked my boss if I could be in the office that day… he told me 'no' and I'm still mad at him."
Conover said the Star Fox project would have been "a Fantastic Mr. Fox style" take on Star Fox, referencing the 2009 stop motion movie by Wes Anderson.
It's a pitch CollegeHumor had already acted on via an earlier parody published in 2011 called Fantastic Mr. Star Fox. The company had also created a series of shorts for the Nintendo 3DS video service around the same time.
However, its grander Star Fox plans were quickly shelved after The Wall Street Journal reported on the Legend of Zelda Netflix show, which Conover alleged the streaming giant intentionally leaked.
"A month later, suddenly there were reports that Netflix wasn't going to do Legend of Zelda anymore… I was like, 'what happened?' And then I heard from my boss that we weren't going to do Star Fox anymore. I thought that was weird, so I asked him what happened and he said, 'oh, someone at Netflix leaked the Legend of Zelda thing… Nintendo freaked out'."
He added: "It was the first time they had done any IP in years for any product, they had no adaptation of any kind. But when Netflix leaked it, they freaked out and pulled the plug on everything. They pulled the plug on the entire program to adapt these things.
"What happened was Netflix leaked this and ended up killing the whole project… why would you leak something like that? Because you're excited to brag about it but then the whole project falls apart. Come on! What are you doing?"
Nintendo has historically been very protective of its intellectual property, only greenlighting television and film projects for the Zelda animated show and Super Mario Bros. movie 30 years ago.
However, Nintendo has increasingly moved to leverage its popular IP in various ways in recent years.
The company's new Nintendo Tokyo store opened in November 2019, Super Nintendo World theme parks are set to open at Universal Studios locations around the world and the Super Mario animated movie is expected to be released in 2022.
In its corporate management meeting in September, Nintendo said it had "already embarked on multiple other visual content projects" alongside Illumination's Mario movie. "Visual content" initiatives may not be limited to film, it said, suggesting that it could expand its game franchises via other mediums such as television or comic books.
"The scale of our investments will vary based on the type of project, but we will continue to invest in these entertainment expansion initiatives to increase the number of people who have access to our IP."
Related Products
Other Products
Some external links on this page are affiliate links, if you click on our affiliate links and make a purchase we might receive a commission.