Nintendo releases 'surprise' game from Little Nightmares studio
"Comedic puzzle co-op game" The Stretchers available now on Nintendo eShop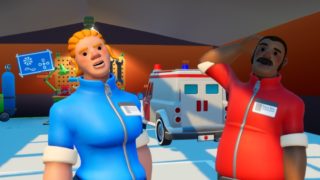 Nintendo has released a "surprise" game from Little Nightmare studio Tarsier on Nintendo Switch.
The Stretchers is described as "a comedic puzzle co-op game" in which players take on the role of two medics and rescue troubled civilians, known as Dizzies, in "all kinds of wacky ways."
To rescue Dizzies, players will drive to each scene in their ambulance, breaking through walls, or soaring through the sky on route, Nintendo said.
Once they've arrived, players will need to cooperate to pile Dizzies up on their stretcher and bring them back to their ambulance, dodging dangers along the way.
"Furniture can be moved to block zapping lasers, wrecking balls can destroy walls, and more," Nintendo said.
On top of rescuing dizzy citizens in need, the game offers "several" side missions that span sawing down trees, building ramps, blowing up rocks with fireworks and games of hide-and-seek.
Swedish studio Tarsier is best known for horror adventure Little Nightmares, which was released in 2017 and has sold more than a million copies, according to publisher Bandai Namco.
A sequel, Little Nightmares 2, will release for PS4, Xbox One, PC and Nintendo Switch in 2020.