Nintendo releases Cadence of Hyrule demo on eShop
Try Crypt of the Necrodancer spin-off for free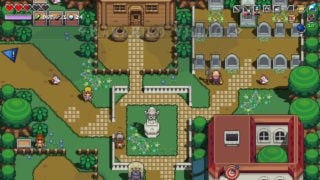 Nintendo has released a demo for Cadence of Hyrule: Crypt of the Necrodancer on its Switch eShop store.
Available in multiple regions including the UK, the free trial allows players to progress up until the first boss encounter, or around an hour of gameplay.
The Crypt of the NecroDancer tie-in was released in June and is developed by Brace Yourself Games, the same team as the original.
Cadence of Hyrule has players take on the role of Link or Zelda as they explore a randomly generated overworld and dungeons on a quest to save Hyrule.
Players are encouraged to move and attack to the beat of the music and plenty of remixed Legend of Zelda tracks feature in the game.
The spin-off features items from the Legend of Zelda series, plus spells and weapons from the original Crypt of the Necrodancer game.
Crypt of the NecroDancer was originally released in 2015 for PC, followed later by consoles, and won the Game Developers Choice Award for Best Audio.
You can read more about the game in VGC's Cadence of Hyrule review.