Nintendo promises more Animal Crossing New Horizons content is in development
A new update adding fireworks shows and seasonal items is coming later this week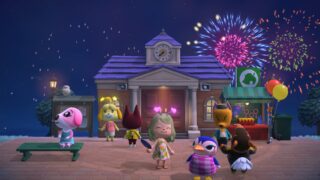 Nintendo has reassured fans of Animal Crossing: New Horizons that more free content is in development.
A tweet from the official Nintendo of America Twitter account informed players that the next free update for the game is coming on Thursday.
This new update will include weekly fireworks shows and new seasonal items.
However, it then followed up with a second tweet telling players that more content was still coming.
"In addition to these updates, more free content for Animal Crossing: New Horizons is currently in development for later this year", the tweet reads.
"More information will be shared in the future, so please stay tuned. Thank you for you support and patience."
Thursday's update will be the first in three months – the last one was released on April 27. Before this, the game had received 17 updates in its first year.
The three-month wait for the new update has led to concerns from some players that support for the game was slowing down, but Nintendo's tweet appears to be an attempt to assuage these concerns.
The version 1.10.0 update released in April added May Day, International Museum Day and 'wedding season' events. It also added new limited-time seasonal items at Nook Shopping.
Before this, version 1.9.0 in March added support for the Sanrio Amiibo cards, as well as a new Custom Design Pro Editor+ mode and an updated Bunny Day event.
Animal Crossing: New Horizons has become one of Nintendo's best-selling games of all time, with its first-year sales even outselling the hardware that runs it.
As of March 2021, the game had sold 32.63 million units worldwide, and also became Japan's second best-selling game ever (behind Pokémon Red and Blue).