Nintendo patents shed light on new Zelda Breath of the Wild 2 abilities
Free falling, rewind and passing through ceilings are all detailed in the new filings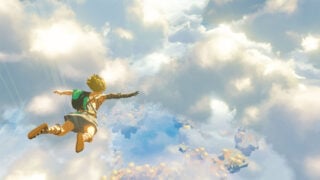 A trio of new patents filed by Nintendo appear to confirm some of the new abilities Link will have in the sequel to The Legend of Zelda: Breath of the Wild.
As spotted by Gamereactor, the three patents each give detail on different skills Link can perform in the game, presumably by earning them like he did in Breath of the Wild.
The first patent describes the way that Link will be able to use a new rewind feature to manipulate the environment.
Rather than completely rewinding time in its entirety, as in a game like Prince of Persia: The Sands of Time, the patent shows Link rewinding a single object, moving it back to its previous location.
The second patent shows a new ability that would let Link travel upwards and pass through ceilings, phasing through them until he reaches the other side on top.
According to the patent image, the game would have to be satisfied that both the surface he passes through and the surface he comes out of aren't too steep and don't have any obstacles, and that there isn't anything in the way as Link passes through.
Finally, the third patent details Link's ability to free-fall, in which he'll seemingly be able to move into various positions and fire at enemies as he does.
Nintendo is deliberately choosing not to reveal the proper title for The Legend of Zelda: Breath of the Wild 2 because it contains hints about the game's plot.
The game will not actually be called Breath of the Wild 2 but will instead have a proper subtitle, like every other Zelda game. But Nintendo is deliberately choosing not to announce the name yet.
Nintendo premiered a new trailer for the game during its E3 2021 Nintendo Direct presentation this past summer, and also confirmed a 2022 release date.
The game will feature an expanded world that includes the skies above Hyrule.
Related Products
Other Products
Some external links on this page are affiliate links, if you click on our affiliate links and make a purchase we might receive a commission.