Nintendo loses $2.4bn in market value after 'incorrect' Switch Lite sales report
Investors spooked by initial hardware sales estimate from research firm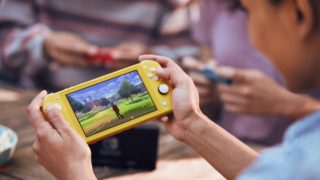 Nintendo's market value fell by $2.4 billion during early trading in Tokyo on Wednesday after investors reacted negatively to an early Switch Lite sales estimate from research firm Media Create.
The stock dropped as much as 4.6% in early trading after Media Create initially reported Switch Lite sales of 114,192 units for the system's first three days on the market (Friday-Sunday).
Nintendo's share price closed the day down 4.32% at ¥40,520 ($377.65).
According to Niko Partners analyst Daniel Ahmad, Media Create reported 114,000 Switch Lite sales as a preliminary figure, but later gave 160,000 as its final sales estimate.
Separately, Japanese publication Famitsu estimated Switch Lite sales of 178,000 units for the three-day reporting period.
Despite the final estimates being significantly higher than Media Create's initial report, the numbers still fell short of Citibank's prior estimate of 300,000 Switch Lite sales, Bloomberg reports.
It describes the reaction from Nintendo shareholders to the initial Media Create sales estimate as a knee-jerk one and suggests too much shouldn't be read into the stock's decline.
Nintendo's stock has been described as perennially volatile – it fell 3.5% in June as investors reacted negatively to the company's E3 announcements, including a delay to Animal Crossing: New Horizons, wiping $1 billion off Nintendo's market value, which remains at about $50 billion on Wednesday.
Prior to Switch Lite's release on September 20, shares in Nintendo hit a near 16-month high as anticipation built ahead of the console's launch.
In VGC's Nintendo Switch Lite review, we called the system "a secondary console worth owning".