Nintendo is streaming two concerts from Japan this weekend
The Animal Crossing and Splatoon shows will be part of the Nintendo Live event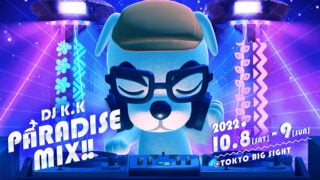 Nintendo will be live-streaming two concerts from its Nintendo Live event in Japan this weekend.
Nintendo Live is a physical event taking place in Tokyo on September 8-9, but some of the show will be broadcast on YouTube.
Specifically, two concerts based on Animal Crossing and Splatoon will be streamed for viewers to watch worldwide.
According to Nintendo, the stream will begin at 5am ET / 10am BST on Sunday, September 9.
The first concert will be the DJ KK Paradise Mix, based on music from Animal Crossing and its music-loving dog KK Slider.
This will then be followed by a Splatoon 3 concert, based on the music of the in-game band Deep Cut.
Nintendo's Japanese description for the event states that "the characters DJ KK and Deep Cut that appear in the game will perform" during the show, though it isn't yet clear how this will be achieved.
Nintendo notes that both performances will be presented in Japanese, with no subtitles.
This year will mark the first time the Nintendo Live event has taken place in Japan since 2019, due to the COVID-19 pandemic.
The event will consist of live music, stage events, game competitions and more, with attendees chosen by lottery in order to keep attendace sizes at a safe number.
Other events taking place during Nintendo Live include the finals of a Mario Kart 8 Deluxe online tournament, a stage show about the history of Pokémon games, a live quiz and tournaments for Super Smash Bros Ultimate, Nintendo Switch Sports and Splatoon 3.