Nintendo is reportedly cracking down on 'uncensored boobs' and hentai games
'Adult' games publisher claims its upcoming titles have been rejected
Nintendo is reportedly cracking down on uncensored nudity and adult-themed games on the Switch eShop.
That's according to "amazing mature (LEWD) titles" publisher Gamuzumi, who has put out numerous adult-themed Switch games in recent years, including 'Elves Fantasy Hentai Puzzle', 'Beauty Bounce' and 'Inside Her (Bedroom)'.
However, according to the company, its next hentai-themed game, 'Hot Tentacles Shoot', has been rejected by Nintendo, because of an allegedly refreshed stance on adult content on the eShop.
"We received an answer from Nintendo and now we have a confirmation that they do not allow uncensored boobs on their consoles now," it claimed.
"Basically, obscene content could damage the brand and infringe its policies. This means that now all games with boobs nudity should be censored and that's why our game (Hot Tentacles Shoot) was rejected in the first place."
It added: "Also, our recently announced game, Elves Christmas Hentai Puzzle, was also rejected due to having nudity. That's all the info we have so far, we'll try to send the games without nudity for approval again and see what they say and update the thread if necessary."
If true, the new policies could mean that other publishers of adult content on Switch could soon see their games censored.
Considering that historically Nintendo has been strict about ensuring its console libraries are clear of adult content, it may surprise some that these types of games have been frequently approved for release on Switch.
A brief search of the Nintendo Switch eShop reveals that games such as 'Fantasy Tavern Sextet', 'Panty Party' and 'DokiDoki Pants' have been approved for release in the past. Last year, two puzzle games were released on the Switch eShop, openly advertising that they "can be played with one hand".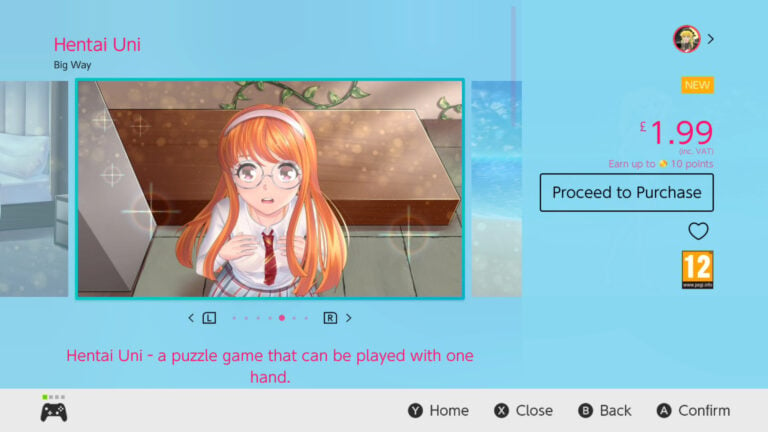 According to a Wall Street Journal report from around the Switch's launch, several Japanese developers claimed that Nintendo had expressed willingness to publish more risqué or violent titles, which some would have expected it to block in the past.
In comparison, Sony has cracked down on sexually explicit games in recent years, the most notable recent example being its censorship of some controversial scenes in Martha is Dead.
Ironically, considering the historic reputations of the two companies, there are now several examples of games featuring sexualised content that have been censored on PlayStation consoles, but released untouched on Switch.
Related Products
Other Products
Some external links on this page are affiliate links, if you click on our affiliate links and make a purchase we might receive a commission.