Confidentiality filing reveals Nintendo is planning a new Switch controller
The FCC has been asked to keep the information secret for up to 6 months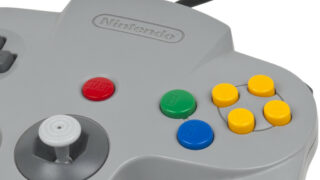 Nintendo is planning a new Switch controller which is likely to be revealed within the next six months, a confidentiality agreement has revealed.
The mysterious new product, simply described as 'game controller', was submitted to the FCC recently accompanied by a number of letters requesting confidentiality on its details.
The letters request that all photos of the controller, its manual, its block diagram and its schematics be kept secret for up to six months, until Nintendo is ready to announce it.
"Please be advised that the following information is to be held in confidence for 180 days from the date of the Grant of Equipment Authorization and behalf of us," one letter reads.
"The application contains technical information, which we deem to be trade secrets and proprietary. If made public, the information might be used to the disadvantage of the applicant in the market place."
The controller has the model name HAC-043, which confirms it as a Switch peripheral, as all previous Switch hardware has used the HAC prefix.
For example, HAC-001 is the Switch console itself, HAC-022 is the Ring-Con for Ring Fit Adventure and HAC-042 is the wireless SNES controller released through My Nintendo for the Switch Online SNES library.
The only information available for the device at the moment is a radio test report, which tests the safety of the controller's wireless signals. This test shows that the controller was plugged into HAC-002, Nintendo's AC adapter, for testing, which implies that the controller has a USB-C port.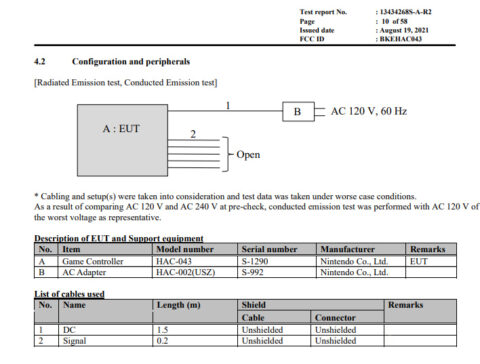 Nintendo has previously requested confidentiality when submitting new controller designs to the FCC. It did the same in August 2019 with its design for the wireless SNES controller.
However, that request was supported by a diagram of where the FCC's certification label should go, which made it clear that the device was shaped like a SNES controller.
For this new controller, a similar diagram has been added, but it simply shows two rectangles with no discernible details.
The peripheral could potentially be related to recent reports that Game Boy and Game Boy Color games are set to be added to the Switch Online service soon.
Sources reportedly confirmed to Nintendo Life earlier this month that Game Boy and Game Boy Color games are likely to be added "really soon", making them the third retro library available on the service.
Later, Eurogamer reported that its own sources could corroborate the claim and that other systems could also be in the works for Switch Online.
Related Products
Other Products
Some external links on this page are affiliate links, if you click on our affiliate links and make a purchase we might receive a commission.