Nintendo has published 7 minutes of Bayonetta 3 gameplay
The long-awaited sequel will finally release in October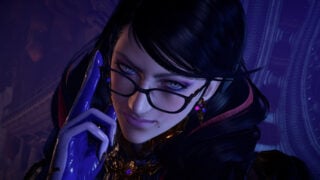 Nintendo and Platinum have published seven minutes of new Bayonetta 3 gameplay, alongside several new screenshots.
The new trailer, which was published following today's Nintendo Direct, shows off new locations and a variety of the new combat options that will debut in Bayonetta 3.
Meant as an introduction to the combat of the Bayonetta series for those who haven't played either of the previous games, the trailer showed off how Bayonetta can use Infernal Demons to attack giant enemies.
The Demon Masquerade ability, which sees Bayonetta transform into a new persona, will also grant players access to new moves and special combo finishers.
Bayonetta 3 will be released as a Switch exclusive on October 28.
Bayonetta 3 will see players meet "a veritable coven of Bayonettas, each more fabulous than the last," while fighting through the streets of Tokyo, the mountains of China and beyond.
In addition to Bayonetta, players will control "feisty witch-in-training" Viola, who is "ready to unleash hell on the Homunculi with her sword and her capricious companion, the feline demon Cheshire."