Nintendo has changed the Princess Peach Showtime artwork to make Peach look angrier
Peach now looks less permanently delighted in the revised artwork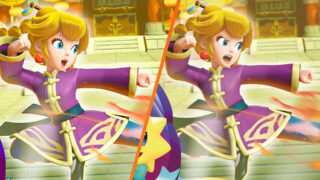 Nintendo has changed the main artwork for Princess Peach Showtime, to make Peach look less happy.
As spotted by Twitter account No Context Super Mario, the main art for the game, which also features on the cover, has tweaked Peach's face twice.
The central illustration of Peach, which shows her reaching forwards out of the image, has had her facial expression changed from cheery to somewhat more confident.
Meanwhile, another illustration of Peach in her Kung Fu Peach power-up outfit, has had her facial expression changed from happy to angry.


The change is seemingly designed to reflect the mood of the game, in which Peach – as the main protagonist for a change – is portrayed as a more confident character capable of doing more than she usually gets to do.
This isn't the first time Nintendo has changed artwork to make its characters look more serious. Numerous Kirby games in the past have shown Kirby with a cheery face on the Japanese box art, but an angry face on their western equivalents.
This time, however, the change appears to be global, because the new 'anrgy Peach' artwork is also on Nintendo's official Japanese site for Princess Peach Showtime.
The game is set for release in March 2024 and sees Peach transforming into various outfits, each with their own abilities (similar to a Kirby game).
"For example," Nintendo says in the game's description, "Peach can become a Swordfighter to fend off foes with sensational swordplay, mix it up with martial arts moves as Kung Fu Peach or show off her sweet skills as a pastry chef".
The game marks the second time Peach has starred in her own game, the first being Super Princess Peach on the Nintendo DS.
The 2005 title was a 2D platformer in which Peach could use her emotions as powers – for example, by crying, she could water beanstalks to make them grow.
Related Products
Super Mario Odyssey
Other Products
Some external links on this page are affiliate links, if you click on our affiliate links and make a purchase we might receive a commission.