Switch is now Nintendo's 3rd best-selling home console to date
Only NES and Wii are ahead; Switch places 7th in company's overall hardware sales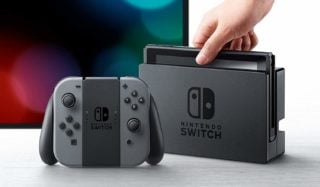 Nintendo Switch has outsold the Super NES to become the Japanese company's third best-selling home console and its seventh best-selling games system overall.
In its latest earning results, Nintendo said Switch had sold 52.48 million units as of December 31, 2019, up 10.81 million units since its second quarter ended September 30.
The 52.48 million figure includes 5.19 million sales of the Nintendo Switch Lite model, which was released on September 20, 2019.
It means Switch now sits behind only NES (61.91m) and Wii (101.63m) as the company's third best-selling home consoles to date, and in seventh place overall for games hardware.
In Brief: Switch sales
Switch has sold 52.48m units as of December 31, 2019
10.81m consoles were sold over the Christmas period
Switch Lite accounts for 5.19m of the total figure
Wedbush Securities analyst Michael Pachter predicted in December that Switch could sell 20 million units annually for the next three years, "so it should easily get to 100 million" and become Nintendo's best-selling home console.
Switch hardware sales totalled 17.74 million units in the nine months to December 31, 2019, which represents a sales increase of 22.5 percent year-on-year.
For the full business year ending March 31, 2020, Nintendo has increased its Switch sales forecast from 18 million to 19.5 million units.
Switch was responsible for the vast majority of Nintendo's revenue for the nine-month period between April and December 2019, with mobile representing less than 5 percent.
Nintendo's mobile revenue recently cleared $1bn, according to analyst data.
On the software front sales reached 123.13 million units, which is a significant year-on-year increase of 30.1 percent.
Pokémon Sword and Shield sold 16 million units between its November 15 release and December 31, 2019. Mario Kart 8 Deluxe is the platform's best-selling game with over 22 million lifetime sales.
For Nintendo 3DS, hardware sales totalled 0.62 million units (a 73.0% decrease year-on-year), while software sales totalled 4.10 million units (a 63.0% decrease year-on-year).
---
Nintendo's best-selling games hardware
1. Nintendo DS     154.02m
2. Game Boy     118.69m
3. Wii     101.63m
4. Game Boy Advance     81.51m
5. Nintendo 3DS     75.71m
6. NES     61.91m
7. Switch     52.48m
8. SNES     49.10m
9. N64     32.93m
10. GameCube     21.74m
Related Products
Other Products
Some external links on this page are affiliate links, if you click on our affiliate links and make a purchase we might receive a commission.