Nintendo Europe confirms Switch's N64 games will run at faster 60hz
Plus some games will be available in PAL format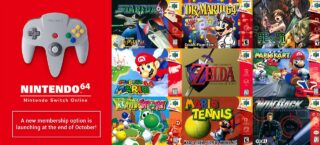 Nintendo has confirmed that the European Nintendo 64 games set to be added to the Nintendo Switch Online service will include the faster 60hz versions of each title.
When Nintendo announced the N64 games during a Nintendo Direct last month it appeared to show the PAL 50hz versions in its European streams, leading many to suspect it would include the slower versions of N64 games in certain regions.
The PAL versions of Nintendo 64 games were notorious at the time for often running slower than NTSC games and often having borders at the top and bottom of the screen.
However, in a statement published on Monday Nintendo of Europe confirmed that N64 games on Switch will be the 60hz versions, with some games (like those with multiple language options) also available in their PAL formats.
"All Nintendo 64 games included with Nintendo Switch Online + Expansion Pack can be played in 60Hz English language versions," it said. "Select games will also have the option to play the original European PAL version with language options."
Nintendo 64 and Mega Drive / Genesis games will be added to Switch Online in late October. A new membership tier called the Expansion Pack will be introduced that adds selections of games from each system.
Special controllers for each system will also be released at $49.99 / €49.99 / £39.99 each.
Switch Online's N64 launch games include Super Mario 64, Mario Kart 64, Star Fox 64, Yoshi's Story, The Legend of Zelda: Ocarina of Time, Mario Tennis, Dr Mario 64, Sin & Punishment and WinBack.
More N64 games will follow after launch, including Banjo-Kazooie, Paper Mario, Pokémon Snap, The Legend of Zelda: Majora's Mask, Kirby 64: The Crystal Shards, Mario Golf and F-Zero X.
Related Products
Other Products
Some external links on this page are affiliate links, if you click on our affiliate links and make a purchase we might receive a commission.