Nintendo eShop's front page currently features a hentai game 'you can play with one hand'
Nintendo has greenlit another Switch release alluding to the explicit manga genre
Nintendo has greenlit the release of another hentai game on the Nintendo Switch eShop.
At the time of publishing, 'Hentai Uni' by Big Way Games is on the front page of Switch's digital storefront and is described by its developer as "a puzzle game that can be played with one hand."
"4 girls and 12 beautifully drawn scenes will cheer you up and help you relax," the description reads. As seen in this uploaded gameplay, the game has players completing puzzles in order to remove clothing from anime characters until they're left completely topless.
Hentai Uni is rated M in the US (and 12 in the UK) for "sexual innuendo and nudity". Currently, Nintendo's website requires users to enter their age before they can view the game's product page.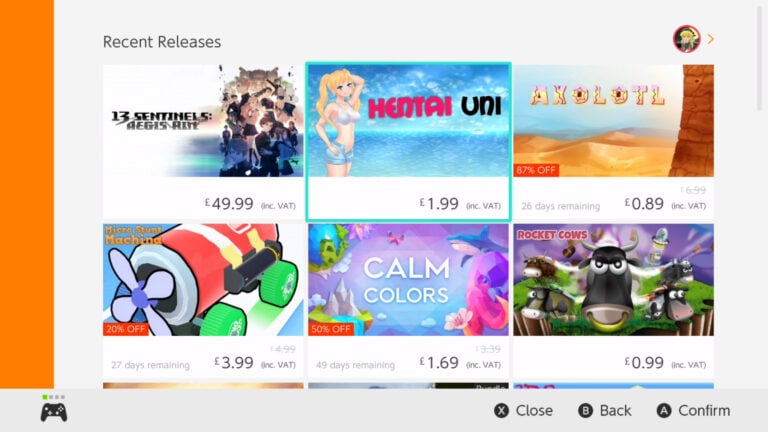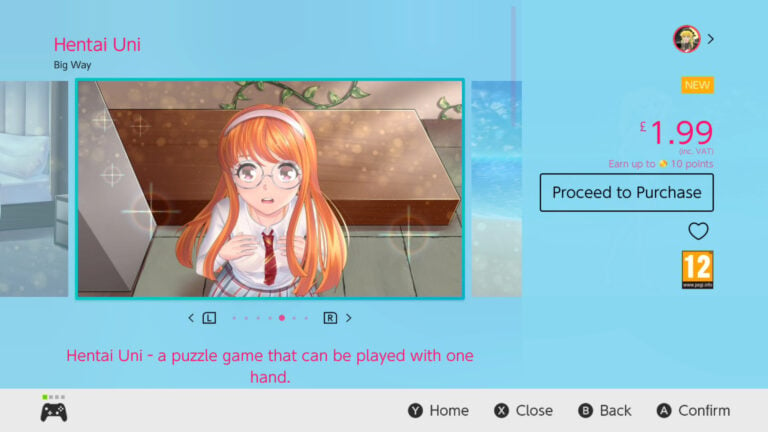 Hentai is described by dictionary.com as "a subgenre of Japanese manga, anime, computer games, etc., characterized by explicit sexual themes and imagery."
Considering that historically Nintendo has been strict about ensuring its console libraries are clear of adult content, it may surprise some that this type of game was approved for release.
However, times appear to have changed, and the platform holder seemingly adopted a more relaxed approach to adult content with the launch of the Switch in 2017.
According to a Wall Street Journal report from around the console's launch, several Japanese developers claimed that Nintendo had expressed willingness to publish more risqué or violent titles, which some would have expected it to block in the past.
In comparison, Sony has cracked down on sexually explicit games in recent years. Ironically, considering the historic reputations of the two companies, there are now several examples of games featuring sexualised content that have been censored on PlayStation consoles, but released untouched on Switch.
As noted by a 2021 Nintendo Life report, Hentai Uni isn't the first game approved for Nintendo Switch based on the sexualised manga genre.
Last summer Axyos Games released action shooter Hentai vs. Evil. Rated 17+ by the ESRB for 'blood, violence, nudity and sexual themes', the game claims to feature a "dash of naughty flavour to spice things up" as you control anime-style characters in "hedonistic action" where "no waifu gets left behind!"
A brief search of the Nintendo Switch eShop also reveals that games such as 'Fantasy Tavern Sextet', 'Panty Party' and 'DokiDoki Pants' have been approved for release in the past.
Nintendo has noted that parents can use the parental control function on Switch to ensure their children don't play games aimed at adults.
Related Products
Other Products
Some external links on this page are affiliate links, if you click on our affiliate links and make a purchase we might receive a commission.