Nintendo criticised for blocking custom Etika Joy-Cons which raised $10k for charity
Company trends on Twitter after targeting the custom shells for trademark infringement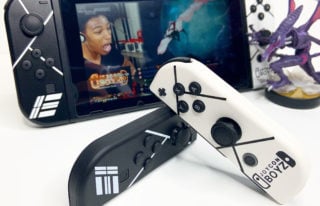 Nintendo has attracted criticism for targeting a fan who raised $10,000 for charity by selling custom Joy-Con shells.
Content creator Captain Alex had created the 'Etikon' controller shells in August 2019 in honour of popular Nintendo community figure Desmond "Etika" Amofah, who tragically took his own life earlier that year.
All proceeds from the controller shells were reportedly donated to the JED Foundation, a mental health and suicide prevention charity. According to 'Alex', Etikons had generated over $10,000 for the charity by the end of 2019.
However, on Sunday 'Alex' confirmed to JoyConBoyz – a YouTube channel created in memory of Etika – that Nintendo had sent him a cease and desist letter at the end of September, demanding that he stop selling the Etikons.
Shortly after JoyConBoyz posted a video on the topic titled "Nintendo hates us", Nintendo even reportedly ordered a copyright strike against the channel.
The news attracted a significant amount of criticism on Twitter, where both 'Nintendo' and 'Etika' were top trending topics on Monday with over 150,000 tweets.
"Mental health is so important, really hope Nintendo reconsider this," wrote one user.
Another user said: "It's just so baffling that Nintendo will turn a blind eye to many, many custom shell designers for Joycon and other controllers, but will C&D the ones that are raising money for charity under Etika's name."
Responding to fans on Twitter, 'Alex' confirmed that the cease and desist was related to his use of the Nintendo Switch logo and Joy-Con phrase.
"Nintendo didn't shut down my business completely, they just had me remove some designs and I'm modifying most of them," he wrote. "Controller modification isn't the issue, use of copyright is."
Around 300 controller shells had initially been sold via crowdfunding platform IndieGoGo, before 'Alex' put the remaining 200 for sale via online marketplace Etsy.
In an earlier tweet, 'Alex' claimed he'd had to essentially trash the remaining 200 pairs which were manufactured.
"These were factory made and I'd have to do another factory production run without the word [Joy-Con] if I wanted to sell them en masse again," he explained.
The latest fan action follows heavy criticism of the cancellation of The Big House – the longest-running major Super Smash Bros. tournament in the US – after it also received a cease and desist order from Nintendo of America last month.
Nintendo reportedly targeted the tournament due to its use of "illegally copied versions" of Super Smash Bros. Melee and use of Slippi Online – rollback netcode allowing players to play against each other online.
Following the cease and desist, the #FreeMelee hashtag – and later #SaveSmash – trended with over 20,000 tweets.
Related Products
Other Products
Some external links on this page are affiliate links, if you click on our affiliate links and make a purchase we might receive a commission.