Nintendo announces Tetris 99 physical release and offline multiplayer
Plus Splatoon-themed event kicks off this month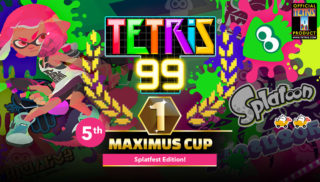 Nintendo will release a physical edition of its battle royale puzzle game Tetris 99 on September 6 in the US and September 20 in Europe, it's announced.
The physical version of Tetris 99 will come bundled with a 12-month membership for Nintendo Switch Online, which is required to play Tetris 99's core battle royale mode.
In a separate announcement, the company confirmed that the game's previously released paid 'Big Block' DLC will be expanded with two new local multiplayer modes.
Later this year those who purchase the add-on will receive Local Arena, which allows up to eight players to battle together, and 2P Share Battle which allows two players to battle using separate Joy-Con controllers.
The Big Block DLC is a season pass that is available to purchase now from Nintendo eShop for $9.99 (£8.99).
The DLC pack initially added two new offline modes — CPU Battle, which allows players to compete against 98 CPU players and Marathon, a challenge to clear the most lines and score big.
Finally, Nintendo will hold a Splatoon-themed Maximus Cup between July 12 and 15, with players able to unlock an in-game Splatoon theme.