Ubisoft says it should have held Mario + Rabbids sequel for Nintendo's next console
It underperformed because it was released too early, according to CEO Yves Guillemot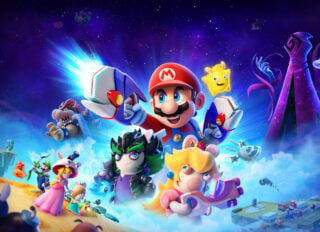 Ubisoft CEO Yves Guillemot has said the publisher failed to heed Nintendo's advice by releasing Mario + Rabbids: Sparks of Hope too soon.
In an interview with GamesIndustry.biz, Guillemot suggested Nintendo had advised the company that it would be beneficial to release the sequel on Switch's successor.
2017's Switch exclusive Mario + Rabbids Kingdom Battle has reached over 7.5 million players, according to Ubisoft Milan creative director Davide Soliani.
But despite strong reviews and a five-year wait for its sequel, Sparks of Hope disappointed commercially following its release last October.
"Despite excellent ratings and players' reception as well as an ambitious marketing plan, we were surprised by Mario + Rabbids: Sparks of Hope underperformance in the final weeks of 2022 and early January," Ubisoft said earlier this year.
While Guillemot said the "the market is suffering a little bit with the inflation situation," he told GI.biz the company should have been more patient with Sparks of Hope's release.
"I think it was a different issue with Mario," he said. "We had already released a Mario Rabbids game [on Switch], so by doing another we had two similar experiences on one machine. On Nintendo, games like this never die. There are 25 Mario games on Switch.
"Nintendo [has advised] that it's better to do one iteration on each machine. We were a bit too early, we should have waited for [the next console]."
He added: "Because you could play a great game. And we think it will last for ten years, because we will update it for the new machine that will come in the future."
While there are exceptions, such as the Mario Galaxy games on Wii, Nintendo doesn't generally release two entries in any one Mario series on the same console, so for example it usually has one Mario Kart or 3D Mario game per system.
In May, Nintendo reported a slowdown in Switch console sales but suggested no new hardware will launch before April 2024.
Following its sales update, Nikkei Asia claimed to have been informed by a source close to Nintendo that work on the company's next console appears to be going smoothly.
"Development seems to be progressing well," they said. "But a product launch won't happen before next spring at the earliest."
Related Products
Other Products
Some external links on this page are affiliate links, if you click on our affiliate links and make a purchase we might receive a commission.