Nintendo adds new Game Boy, SNES and NES games to Switch Online
Kirby's Dream Land 2, Side Pocket, Xevious and BurgerTime Deluxe are available now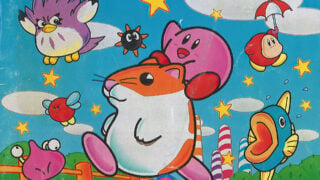 Nintendo has added a new batch of retro games to its Switch Online library.
Four new titles have been added to the service – two for Game Boy, one for SNES and one for NES.
Kirby's Dream Land 2 and BurgerTime Deluxe have been added to the Game Boy library, taking it up to 11 games.
Meanwhile, Side Pocket and Xevious have been added to the SNES and NES libraries respectively.
Kirby's Dream Land 2 was the third game in the Kirby series, releasing after Kirby's Adventure on the NES. It introduces three animal friends – Rick the hamster, Coo the owl and Kine the sunfish – who Kirby can ride to make use of their abilities.
BurgerTime Deluxe is an enhanced sequel to Data East's classic arcade game BurgerTime, in which a chef called peter Petter has to make hamburgers while avoiding food-based enemies.
Xevious is an NES port of Namco's 1983 arcade gam, and is a vertically scrolling shoot 'em up in which players control a fighter plane called the Solvalou. Its main feature is its two different shot types – bullets for enemies in the air, and bombs for those on the ground.
Finally, Side Pocket is a pool title that was originally released in arcades and on the NES before getting this SNES reimagining. Players start in LA and, with 16 shots, have to make their way across America clearing tables (which tops up their shots). It also has a Trick Shot mode with 19 stages.
There are currently 11 Game Boy and Game Boy Color games available via a Switch Online subscription, and a further seven Game Boy Advance games available through its Expansion Pack tier. Last week Nintendo added Metroid Fusion to the GBA library.
Nintendo has also confirmed some of the games that will be coming to the service in the future. Upcoming Game Boy games include The Legend of Zelda: Oracle of Seasons / Ages, Pokemon: Trading Card Game and Kirby Tilt & Tumble.
Meanwhile, upcoming Game Boy Advance games include Kirby and the Amazing Mirror, Fire Emblem, F-Zero Maximum Velocity and Golden Sun.
Related Products
Other Products
Some external links on this page are affiliate links, if you click on our affiliate links and make a purchase we might receive a commission.