Rare HD Nintendo 64 artwork has been uncovered in this weekend's data leak
Fans pull HD art for Mario 64, Zelda and more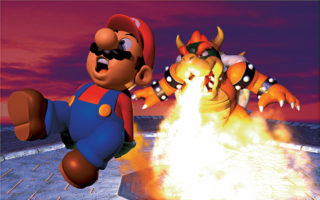 Rare high-definition artwork from the Nintendo 64 era has been uncovered, as part of this weekend's significant Nintendo data leak.
Over 10GB of development data for Nintendo's first-party N64 games – including Super Mario 64, Legend of Zelda: Ocarina of Time and more – appeared online on Saturday, allowing fans to uncover a plethora of behind-the-scenes material including the HD artwork.
Previously, renders for games such as Wave Race 64 and Star Fox 64 were only available at far lower resolution.
The latest data leak follows the discovery of a significant amount of Super Nintendo content, including working prototypes of many classic games including Super Mario World 2: Yoshi's Island.
Saturday's N64 leak has allowed fans to recover assets and data from similar early versions of many N64 games, including the several infamous trade show demos made popular by grainy VHS footage.
Significantly, Saturday's leak is said to contain an early build of Super Mario 64, dubbed "Ultra 64 Mario Brothers," with files and assets related to Luigi. Luigi was originally intended to appear as a second playable character in the launch game, according to a 1996 interview with director Shigeru Miyamoto.
The data is also said to include a second Zelda: Ocarina of Time version with references to the 64DD. An Ocarina expansion was originally planned to release on the failed add-on.
However, the latest breach is allegedly much larger in terms of raw data than Friday's and will likely take some time to be pieced together by the modding community.
Many files present in the leak are also said to be corrupted, which could prevent the sort of full demos seen in Friday's SNES breach from happening.
The full leak is said to include source data for Super Mario 64, Mario Kart 64, Star Fox 64, Wave Race 64, Yoshi's Story, Legend of Zelda games Ocarina of Time and Majora's Mask, plus Dr. Mario 64 and Animal Crossing.
The data is also said to include a version of the Nintendo 64's operating system.
The leak could be linked to a larger breach of legacy Nintendo data which was first reported in May.
That breach is said to originate from a server hack of BroadOn, a company Nintendo had contracted to develop Wii hardware and software.
Since 2018, various Pokémon data has been leaked online, including debug roms for Pokémon Blue, Yellow, Gold and Silver, alongside source code, Spaceworld '99 demos and an internal GameBoy PC emulator.