Nightingale's early access has been delayed to early 2024
A new trailer also shows the game in action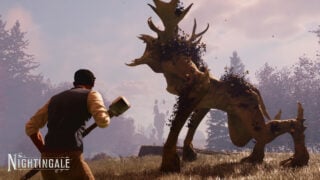 The early access release date for Nightingale has been announced, though it's later than originally planned.
According to a new trailer shown during the Opening Night Live presentation at Gamescom, the game's early access period will start on February 22, 2024.
Previously, the game's early access period was planned for 2022, before it was then announced that it had been delayed to the first half of 2023 in order to upgrade the game from Unreal Engine 4 to 5.
"After years of dedicated work from the team, we are thrilled to announce that Nightingale will enter Early Access on February 22nd, 2024," said Aaryn Flynn, the CEO of developer Inflexion Games and former BioWare head.
"That date is a few months later than we previously announced. But as a studio, we're committed to quality, and we take player satisfaction very seriously.
"We want to ensure that the game delivers on the expectations of our community, who have played a vital role in the development to date.
"We strive to ensure that Nightingale not only fulfills our vision but also becomes a cherished place for our players to explore and discover with their friends for many years to come."
Nightingale is described as a "shared-world survival crafting game set within a rich Victorian gaslamp fantasy setting".
The game has players visiting mystical portals to explore a series of dangerous realms in search of Nightingale, the "last haven of humanity".
Players can either play through the game solo, or team up with others as they gather materials to construct settlements and craft tools and weapons to fight monsters and magical enemies.