'Next level' Warzone hacker auto marks opponents and equips night vision googles
Hacker claims to have been using the cheats with the same Warzone account for five months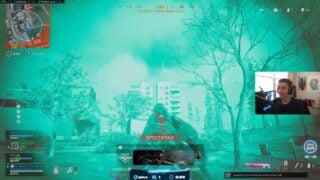 Call of Duty: Warzone players have shared footage of a hacker automatically marking all opponents on the map and equipping night vision goggles – an item that's not even available in the game.
The footage was surfaced by content creator Yungstaz, who was spectating the hacker in-game.
"These are the most advanced hacks I've ever seen," commented one player, before asking the cheater how much they paid for them.
More Call of Duty:
Best Vanguard loadout | Call of Duty Vanguard review | Modern Warfare 2 (2022) details | Best Warzone loadout | Warzone best sniper | Warzone best SMG | Warzone best Stoner 63 | Warzone best AK-47 | Warzone best Bullfrog | Best FARA Warzone loadout | Best AMAX Warzone loadout
"I don't pay anything," the hacker responded, before adding "I don't sell," suggesting they may have created the cheats themselves.
Activision said this week that it has issued over 475,000 permabans for Warzone, which it claims has attracted over 85 million players since its release in March 2020.
The publisher issued the latest in a series Warzone ban waves on Monday, with developer Raven Software tweeting that 30,000 more player accounts had been banned from the free-to-play shooter.
It marked the seventh high-volume set of bans since February 2, when Activision said it had permabanned 300,000 accounts.
In a blog update on Tuesday, Activision said its security and enforcement teams also issue bans on a daily basis for individual and repeat offences.
"We also are tackling the commercial market of cheat providers and resellers," it said. "This includes suspicious accounts, which are farmed and often sold to repeat offenders. We recently banned 45,000 fraudulent, black market accounts used by repeat offenders."
Activision also confirmed that issuing hardware bans against repeat or serial offenders is "an important part" of its anti-cheat strategy.
The company has begun teasing next week's launch of Black Ops Cold War and Warzone Season 3, which will refresh the battle royale game's Verdansk map.