New video game handhelds may need to have a replaceable battery from 2027
A newly passed EU regulation means new devices must give access to the battery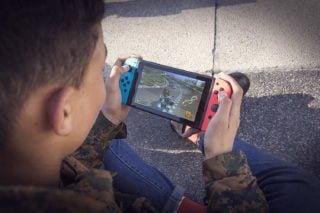 A newly passed European Union regulation means electronic devices, including game handhelds, may need to have replaceable batteries from 2027.
As reported by Overkill, the EU has posted a document explaining new regulations set to begin in 2027 which will require all devices to allow easy access to their battery.
This new regulation will likely only affect new products, meaning if new hardware (such as the Switch's successor) is released before 2027, Nintendo won't be obliged to scrap it and release a new version with a replacable battery once the regulation comes into effect.
However, it does suggest that any new handheld consoles, be that Switch 2 revisions or new Steam Deck or ROG Ally successors, will have to make it possible for users to remove and replace the battery.
Despite the length of the legislation document, it could be opened to interpretation given that it can't possibly list every type of device that should be covered by the regulation.
However, an EU source reportedly confirmed to Overkill that "the batteries of gaming handhelds are covered by the batteries and waste batteries regulation".
According to the Council of the EU, the new legislation "strengthens sustainability rules for batteries and waste batteries" and will "regulate the entire life cycle of batteries – from production to reuse and recycling – and ensure that they are safe, sustainable and competitive".
In an interview with Famitsu last year, Steam Deck developer Pierre-Loup Griffais identified battery life as one of the issues of "the current Steam Deck", suggesting it could be improved in a successor.
Related Products
Other Products
Some external links on this page are affiliate links, if you click on our affiliate links and make a purchase we might receive a commission.