New Starfield video introduces robot companion Vasco
The expeditionary robot has defensive capabilities, but his primary role is peaceful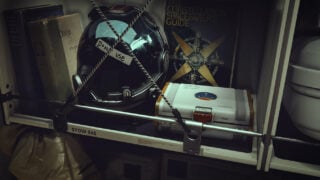 Bethesda has released a new Starfield video focused on one of the characters who will accompany players in the game.
"We're excited to introduce you to one of our favourite companions in the game, Constellation's very own expeditionary robot Vasco," Starfield lead artist Istvan Pely says in the video below.
"As an early model built by Lunar Robotics, Vasco was refurbished to meet the requirements of Constellation's mission. He's a utilitarian heavy industrial machine well suited to the rigours of space travel.
"Vasco's design is based on a standard Type A bipedal chassis capable of traversing rough terrain with all the survival gear and payload capacity needed for extended overland journeys.
"Vasco does have defensive capabilities should the need arise, but his primary role is peaceful."
Into the Starfield: Made for Wanderers
In a Starfield developer diary released last month, Bethesda said it has put a lot of effort into making sure players are aware of how other characters perceive them.
"That's probably my favourite part," said Pely. "Like when you're exploring and then your companion makes some comment off the cuff about something that you're checking out or something that just happened. That just feels so perfect for immersion. It's just so believable, you think it's a real person."
Game director Todd Howard said in November that Bethesda could be expected to offer the next major Starfield reveal this summer ahead of the game's late 2022 release.
Bethesda parent company Xbox will reportedly hold its regular E3-style Xbox games showcase in June.