The new RPG being teased by Sega appears to be a mobile game
Sega will reveal the game at a live stream at Tokyo Game Show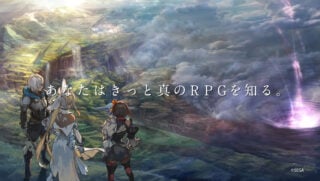 The new RPG due to be announced by Sega at the Tokyo Game Show has been confirmed to be a mobile game.
Sega has launched a teaser site for the game, which is accompanied by a teaser trailer.
Although the website doesn't specifically mention mobile anywhere, the trailer has a Japanese voiceover that refers to smartphones at one point.
According to the voiceover, the game will feel more like traditional pen-and-paper RPGs, where the player will be given more freedom to create their own story.
VGC's translation of the voiceover is as follows:
What is a role-playing game? It's a journey through an unknown world.
But these days the story is a straight path, a journey that should be a road but can be turned back and redone. A predetermined ending.
But is this really what we want? Before computer games were born, the first role-playing games were made with pen and paper.
The performance and the story were up to you, and each player was free to create their own global battles. It was up to you.
A story is not something you read, but an experience you have only once.
These was excitement and freedom then. Retrieve it.
An RPG made up of scenes. A smartphone. You choose the ending.
Let's take a one-off journey, not a straight road. Will they smile or be sad? The choices when telling this story are all yours.
You will surely know the true RPG.
The live stream that will feature the new game is set to take place at 10pm Japan time (2pm BST / 9am ET) and will also include content from Atlus, the subsidiary responsible for the Persona and Shin Megami Tensei games.
The stream may also feature Sakura Wars – which is celebrating its 25th anniversary this year – after a logo for the series was briefly spotted on the TGS website this month.
Tokyo Game Show takes place from September 30 to October 3 and will include more than 40 presentations.
Like in 2020, TGS will broadcast four days of content on YouTube, Twitch and social media platforms. This year, all programs will be broadcast in English with simultaneous interpretation.
Microsoft has confirmed its Tokyo Game Show live stream and told fans to expect "a celebration with our Asia community and locally relevant updates".
Square Enix has also confirmed a 50-minute Tokyo Game Show event, where it will likely provide updates on the Final Fantasy series and more. According to the official event description, the TGS show will offer "the latest news about our upcoming titles, along with pre-announced information."