New Royal Mail stamps celebrate classic UK video games
Including Tomb Raider, Worms, Lemmings and Dizzy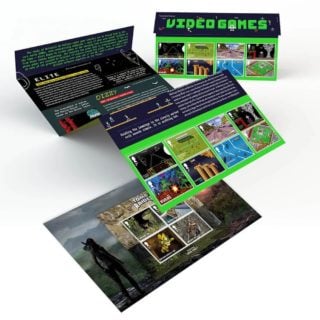 The Royal Mail has launched a new stamp collection celebrating video games primarily designed in the UK in the 1980s and 90s.
There are 12 stamps in total, depicting scenes from four Tomb Raider games, plus Elite, Dizzy, Populous, Lemmings, Micro Machines, Sensible Soccer, Wipeout and Worms.
A 12-pack collection comes with information on the games and can be pre-ordered for £14.25 ahead of its release on January 21.
There's also a limited collector's edition available for the same price, or the stamps can be pre-purchased in other combinations.
Dr Kawashima's Brain Training for Nintendo Switch was the only new entry on the UK all formats chart during the week ended January 4 as Call of Duty: Modern Warfare claimed the top spot for the fourth week running.
UK video game software sales declined last year for the first time since 2012. Combined physical and digital software sales fell 3.4% to £3.77 billion in 2019, according to data released on Friday by the Entertainment Retailers Association.
While digital title information isn't currently available, FIFA 20 was the best-selling physical game of 2019, moving over 1.5 million units, followed by Modern Warfare with almost 1.2 million sales.
Grand Theft Auto V was also revealed to be the UK's best-selling physical game of the 2010s.