New Nintendo Switch model goes on sale in UK
Online retailers offering next day delivery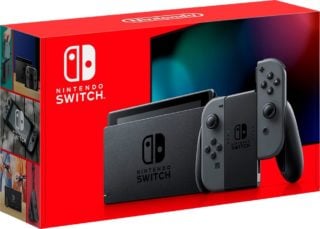 Online retailers in the UK have begun selling Nintendo's updated Switch model, which most notably features improved battery life.
Customers in the region can purchase the console via GAME (neon, grey) or ShopTo (neon, grey) for around £280, with both sites offering next day shipping.
GAME is currently offering up to £195 credit for those who trade in their existing Switch model. It is also offering hardware bundles including a pair of games (£339.99) or a single game (£299.99).
When the new Switch model was announced in July, Nintendo UK told VGC: "Consumers should start seeing the new packaging on store shelves starting from early September, but that will vary by individual stores and locations."
The updated Switch hardware features significantly improved battery life and various other minor tweaks, including a slightly brighter screen.
Nintendo's official estimate for the new Nintendo Switch's battery life is between 4.5 and 9 hours, compared to the original model's 2.5 to 6.5 hours and 3 to 7 hours offered by the upcoming Switch Lite.
An early battery life test shows the new Switch lasting for five hours and 36 minutes whilst playing Legend of Zelda: Breath of the Wild in portable mode.
Another test has Fire Emblem: Three Houses running for two hours in portable mode, with 60% battery life remaining, suggests a runtime of five hours.
Meanwhile, Switch Lite was announced in July. A smaller, lighter system that can't be connected to a TV, it will launch on September 20 for $200 and will be available in three colours: yellow, grey and turquoise.
A limited edition Pokémon Sword and Pokémon Shield Switch Lite console will also be released in November.
Nintendo has also announced plans to launch new Joy-Con colours, in the form of a blue/neon yellow set and a neon purple/neon orange pair, on October 4, priced at $79.99/£69.99.