New Modern Warfare patch and playlist update released
Double XP, weapon XP and Tiers weekend also incoming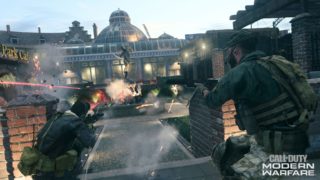 Infinity Ward has released a new Call of Duty: Modern Warfare patch and a playlist update.
Available across all platforms, the patch includes a fix for the Realism Moshpit playlist not rotating modes, and a fix for the CDL playlist not functioning as planned.
The update removes the Shoot the Ship playlist, with Shipment (5v5) and Shoot House (8v8) now separate playlists.
Additionally, Infinity Ward has confirmed plans for a double XP, double weapon XP and double Tiers weekend.
Modern Warfare and Warzone Season 4 received a major content update earlier this week introducing 200-player support for Battle Royale, the Juggernaut Royale mode, plus a new multiplayer map called Cheshire Park, among other features.
Tuesday's update also added semi auto rifles, snipers and fists-only to the Gulag, and made some adjustments to popular weapons.
The Grau had its damage range reduced and recoil increased, while the MP5 has also seen reductions to its damage range and a slight increase in recoil.
Modern Warfare and Warzone Season 5 could include classic Call of Duty multiplayer map Highrise.