New Halo Infinite concept art released
343 Industries also provides a round-up of the game details confirmed so far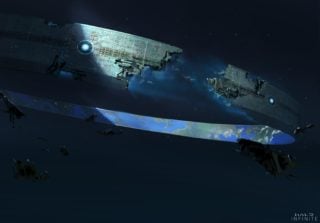 343 Industries has released two new pieces of Halo Infinite concept art.
In an update on Halo Waypoint, the Microsoft studio acknowledged there's been a lack of new information about the game since the Discover Hope trailer was shown at E3 in June.
And while there's still no fresh news to share about the game, it promised the "Halo hype train that kicked off two weeks ago with Halo: Reach will not be slowing down at all in 2020."
Microsoft announced in June that it plans to launch Halo Infinite alongside its next-gen console, Xbox Series X, during the 2020 holiday season. Described as a "spiritual reboot" of the first-person shooter series, which launched in 2001, the game's also in development for Xbox One and PC.
343 Industries also provided a round-up of the Halo Infinite details confirmed so far, which we've republished in full below the new concept art (click for full size):
Halo Infinite
General Details
Release date: Holiday 2020
Platforms: Xbox Series X (formerly known as Project Scarlett), the entire Xbox One family of devices, and Windows PCs
In Universe Timing: It follows the Master Chief's story some time after Halo 5: Guardians' conclusion
Flighting Programs: These opt-in flights will start small and slowly expand out until release, so sign up for the Halo Insider program!
Pro Team: We've assembled an internal Pro Team for Halo Infinite
Game Features
Splitscreen: Splitscreen is up and running internally
LAN: Halo Infinite will support LAN
Back in Black: Black Undersuits will be in the game
Player Customization: If you liked the level of armor customization options in Halo: Reach, you will be pleased
SR 152: Players who hit SR 152 in Halo 5: Guardians will receive a token of appreciation in Halo Infinite
Forge: Our famous editing tool will be in Halo Infinite and will have Undo & Redo buttons, which is a first for Forge.

Halo Infinite's creative director and lead producer both departed 343 Industries earlier this year.