GTA Online story DLC is coming this month featuring Dr. Dre, new music and more
'The Contract' stars GTA V protagonist Franklin Clinton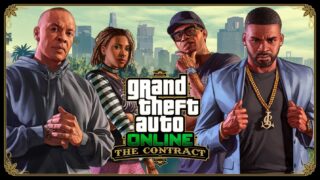 Rockstar will release new Grand Theft Auto Online story DLC called 'The Contract' on December 15.
It features the return of Grand Theft Auto V protagonist Franklin Clinton and also stars Dr. Dre, who has produced new music for the update.
The Contract sees Franklin running a "celebrity solutions agency" catering to the Vinewood elite and searching for a major client to take the business to the next level.
An opportunity arises when Dr. Dre's phone, which houses new unreleased music from the artist, falls into the wrong hands and Clinton sets out on a mission to retrieve it.
Grand Theft Auto Online - The Contract trailer
Rockstar says: "Get ready for a wild and hilarious ride through Los Santos, from the mean streets of Franklin's old neighborhood to the hottest parties in the city, from debaucherous mansions to the offices of the FIB and everywhere in between as you join Franklin, expert hacker Imani, Chop the Dog, and crew to secure Dr. Dre's precious tracks and return them to their rightful owner."
The Contract promises "an eclectic new radio station from some very special guest hosts, huge first-of-their-kind updates to existing radio stations including a ton of new and unreleased exclusive tracks from Dr. Dre and a heavy-hitting line-up of artists, plus additional opportunities for agency work including choice hits for players willing to get their hands dirty, plus new weapons, vehicles, and much more".
In October, rapper Snoop Dogg revealed he had contributed to some of the music Dr. Dre was making for the then unannounced GTA project.
Rockstar recently delayed the physical versions of Grand Theft Auto: The Trilogy – The Definitive Edition following the collection's troubled digital launch last month.
GTA Trilogy Definitive Edition's physical release was previously scheduled for December 7 on Xbox Series X/S, Xbox One, Switch and PS4.
The Xbox and PS4 versions will now arrive on December 17, while the Switch version has been pushed to 2022.