New Gran Turismo 7 gameplay footage shows Daytona International Speedway
See a full lap and its replay running on the PS5 version of the game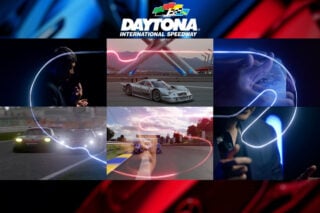 Sony has released a new Gran Turismo 7 gameplay video showing off the returning Daytona International Speedway.
The circuit has appeared in Gran Turismo 5 and Gran Turismo 6, and will be coming back for the latest entry.
The new PS5 gameplay video shows a lap of the Daytona track, taken from the cockpit view.
It then shows the same lap from the replay view, where the frame rate drops from 60fps to 30fps but the level of detail is increased.
The video can be watched in this embed:
Gran Turismo 7 - Daytona International Speedway Gameplay Video
Last month Sony released a similar gameplay video showing off a lap of the Deep Forest Raceway track, which has appeared in every series entry to date except for 2017's Gran Turismo Sport.
The latest Gran Turismo 7 videos follow a series of developer diaries released by Sony in which Polyphony CEO Kazunori Yamauchi discusses various aspects of the upcoming game.
The behind-the-scenes videos include a look at Gran Turismo 7's cars, tracks, personalisation, livery editor and more.
Sony recently detailed Gran Turismo 7 pre-order items and the game's 25th Anniversary Edition, which costs $90 / £90.
Customers who pre-order the PS4 and PS5 game at participating retailers ahead of its March 4, 2022 release date will receive a selection of bonus in-game items.
The 25th Anniversary Edition includes a Toyota GR Yaris with a country specific livery.
Gran Turismo 7's campaign mode, livery editor, Scapes photo mode, GT Café and GT Auto will all require players to be connected to the PlayStation Network.