New God of War Ragnarök combat details and screenshots revealed
Sony Santa Monica discusses Weapon Signature Moves and new shields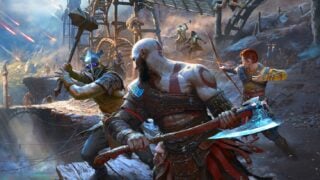 Santa Monica Studio has revealed some of the ways in which God of War Ragnarök builds on the combat options available in its predecessor.
Lead combat designer Mihir Sheth told Game Informer that one of the team's internal philosophies is the idea that "Kratos plays with his food".
He explained: "We tried to create systems you want to engage with that are fun, very playful, lots of different routes. And when we looked at the combat in the last game, we were like, 'We can push this further; we can find new toys and ways of playing with enemies and strategies.' That's been the guiding principle more than anything else."
God of War Ragnarök – 'Father and Son' Cinematic Trailer | PS5 & PS4
Sheth said one way the sequel does this is by introducing "a whole new suite of moves" for Kratos which are accessible via the triangle button.
In 2018's God of War, pressing triangle either recalled the protagonist's axe, did nothing if it was already in his possession, or switched to the axe if Kratos had the Blades of Chaos equipped.
Ragnarök's new triangle attacks are called Weapon Signature Moves. Kratos can now infuse his weapons with ice or fire to deal elemental attacks called Frost Awaken and Whiplash, which can freeze or incinerate enemies respectively.
Kratos can also use multiple new shields, including the Dauntless and Stonewall ones. By parrying at the last possible moment, the former can be used to unleash a smash attack that throws and stuns enemies.
The Stonewall Shield can't be used to parry, but it absorbs kinetic energy with every hit it blocks. Once fully charged, it can be banged into the ground to release a screen-wide pulse which knocks approaching enemies off their feet.
Game Informer has also published a number of new God of War Ragnarök screenshots, which are viewable below.
Publisher Sony recently announced a God of War Ragnarök release date of November 9, 2022, alongside four editions of the game.
The title was originally planned for release in 2021, but last summer Santa Monica Studio said it had been delayed 2022 to help the studio deliver "a top-quality game while maintaining the safety and wellbeing" of its team.