New Ghost Recon to premiere May 9
"Premiere event" set to feature announcement trailer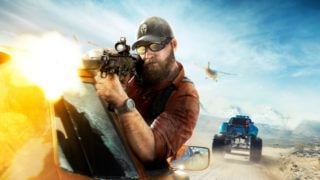 Ubisoft will announce a new Ghost Recon game on Thursday May 9.
An official announcement trailer will be released during a "premiere event" at 11:30am PT (7:30pm UK) on Ubisoft's Skell Technology teaser website.
Skell Technology is a fictional corporation that appears in 2017's Ghost Recon Wildlands.
With development led by Ubisoft Paris, Wildlands is the first Ghost Recon game to feature an open-world environment, with missions playable in up to four-player co-op or single-player.
Wildlands is set in a fictional Bolivia, in which players must take down the Santa Blanca drug cartel by any means necessary.
Ubisoft very recently released fresh DLC for Wildlands. Operation Oracle features two new missions starring Punisher actor Jon Bernthal.
Wildlands attracted more than 10 million players in its first year, according to Ubisoft.
PlayStation is also set to offer a "first look" at a new game on May 9, during its next State of Play video. It's possible the two reveals could be related to the same title.