New Darksiders will 'take franchise in a fresh direction'
E3 2019 reveal confirmed for action adventure instalment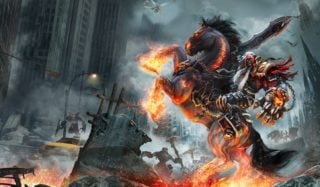 THQ Nordic will announce a new Darksiders game at E3 that will take the franchise in "a fresh direction," according to a show listing.
The E3 Coliseum website details the announcement, with a live panel set to take place on Thursday, June 13.
Read our E3 2019 dates schedule for every conference and live stream date.
The panel will coincide with "the E3 2019 unveil of a brand new Darksiders game that takes the franchise in a fresh direction," the organiser says.
"This is a panel discussion about the art and business of creating and maintaining an action adventure franchise rich in-game and corporate lore."
Darksiders is an action adventure series first created by former studio Vigil Games and acquired by Nordic Games (now THQ Nordic) in 2013 following the bankruptcy of THQ.
The games take place on a post-apocalyptic Earth, where angels and demons battle for control of the world.
The most recent entry, Darksiders 3, was released just six months ago in November 2018, developed by Gunfire Games, the studio formed by former Vigil developers.
Given the proximity of the new announcement and the most recent Darksiders, it's unclear if Gunfire will be responsible for the new game.
THQ Nordic CEO Lars Wingefors recently provided an update on the publisher's extensive development pipeline, which includes 80 games — 32 announced titles and 48 undisclosed ones.
"Top secret" projects include a title being developed at Kingdom Come: Deliverance maker Warhorse, the Czech studio THQ Nordic acquired in February 2019, a new game from Volition, and an upcoming title from Metro studio 4A Games.