New Call of Duty Modern Warfare update will 'improve stability'
Also includes bug fixes, weapon tuning, footsteps and claymore changes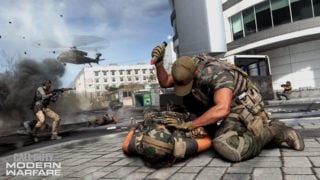 Infinity Ward is gearing up to release a new Call of Duty: Modern Warfare update designed to improve stability on all platforms.
[Update November 8: Call of Duty: Modern Warfare update version 1.07, featuring new maps and crash fixes, is now live]
The studio has already released several Modern Warfare updates designed to reduce crashes reported by PC, Xbox One and PS4 players, but some users are still encountering stability problems.
"Pending any unexpected issues, we've got an update rolling out over the next few days that improves stability across all platforms, fixes bugs, weapon tuning, footsteps, claymores, and more," Infinity Ward senior communications manager Ashton Williams tweeted on Wednesday.
Williams said in follow-up messages that the stability improvements will hopefully eliminate crashes, that some of the upcoming bug fixes are for Spec Ops mode, and that if testing goes well, changes will be made to the 725 shotgun which some users say is overpowered.
Activision also revealed on Thursday that Call of Duty: Modern Warfare's first Battle Pass will launch in December.
Modern Warfare launched on October 25 and publisher Activision called it the fastest-selling Call of Duty game this console generation after three days of availability.
Generating $600 million worldwide in 72 hours, the game recorded the best digital launch in Activision's history, as well the highest three-day PlayStation Network sales ever on PS4.
VGC called it the freshest CoD in years in our 4/5 star Call of Duty: Modern Warfare review. See what other critics think of the game in our Call of Duty: Modern Warfare review round-up.