New Assassin's Creed Valhalla update should finally let players access the Yule Festival
The event has also been extended to January 27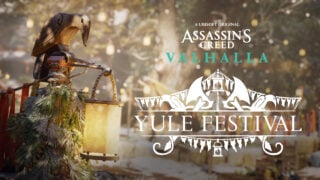 Assassin's Creed Valhalla's latest title update is out today and addresses problems some players have been having with the Yule Festival.
Launched on December 16, the event includes festive activities players can take part in to unlock new items such as a snowy beard and hair and settlement decorations.
But shortly after its launch, Ubisoft acknowledged an issue that was stopping some players from accessing the Yule Festival, which it said it planned to address after the holidays.
Assassin's Creed Valhalla: Dawn of Ragnarök Trailer
Title update 1.4.1.2 "resolve[s] issues blocking players from progressing in the Yule Festival", which will now end on January 27 rather than today as originally planned, Ubisoft has confirmed.
The publisher revealed plans for Assassin's Creed Valhalla's second year of content—a first for the series—in December.
They included the launch of Assassin's Creed Valhalla and Assassin's Creed Odyssey crossover story DLC last month.
And Assassin's Creed Valhalla's next expansion, Dawn of Ragnarök, will be released in March 2022.
Developed by Ubisoft Sofia, the team responsible for Assassin's Creed Rogue and the Curse of the Pharaohs expansion for Assassin's Creed Origins, Dawn of Ragnarök will offer some 35 hours of gameplay.
Ubisoft will stage an "immersive symphonic concert" to celebrate the Assassin's Creed franchise's 15th anniversary later this year.