Netflix's new Sonic Prime teaser trailer features Shadow and Doctor Eggman
The animated series is set to hit the streaming service this holiday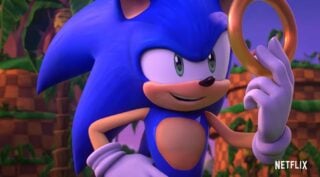 Netflix has released a new trailer for its upcoming Sonic Prime show.
Viewable below, the teaser trailer features Sonic going head-to-head with Shadow and Doctor Eggman.
Sonic Prime is set to hit the streaming platform this holiday.
Sonic Prime - Teaser Trailer
Netflix announced Sonic Prime last February when it said the series would consist of 24 episodes and premiere worldwide in 2022.
It's billed as "a high-octane adventure where the fate of a strange new multiverse" rests in Sonic's hands, as well as "a journey of self-discovery and redemption".
Canadian production company WildBrain is animating the series at its Vancouver studio, with Sonic Prime's showrunners and executive producers coming from Man of Action Entertainment (Ben 10, Big Hero 6).
Sega recently confirmed a November 8, 2022 release date for Sonic Frontiers, which is coming to Xbox Series X/S, Xbox One, PS5, PS4, Switch and PC.
Cyberpunk Edgerunners, the new anime series from Netflix, CD Projekt and Studio Trigger, debuted on the streaming service last week.
Ubisoft announced earlier this month that it's working on an Assassin's Creed mobile game with Netflix, which will possibly tie into a previously announced live-action series with the streaming giant.