Netflix teases its live-action Resident Evil series with its first clip
See the Cerberus zombie dog and the series' logo in this short tease video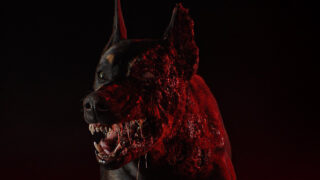 Netflix has released a brief teaser clip for its upcoming Resident Evil live-action series.
The short clip shows Cerberus, the iconic zombie dog from the series, walking towards the camera.
As the dog turns its head, the red lighting exposes the rotting flesh on the side of its head.
This is then quickly followed by the official logo for the new series.
The video was briefly posted on the new official Instagram account for the series, but has since been removed and replaced with still images from the teaser. However, the video was saved by a number of fans and is being shared on Twitter, as seen here:
Earlier this year, Netflix released an exclusive animated series called Resident Evil: Infinite Darkness, which revolves around a zombie outbreak at the White House.
This new series, however, will be live-action and is being produced by German production company Constantin Film, which is also behind the recently released movie reboot Resident Evil: Welcome to Raccoon City.
According to a Netflix synopsis released last year, the show will feature "the Wesker kids" as they uncover secrets inside of New Raccoon City. Albert Wesker is one of the primary antagonists in the Resident Evil games.
"When the Wesker kids move to New Raccoon City, the secrets they uncover might just be the end of everything," it says.
Resident Evil: Welcome to Raccoon City - official trailer
Netflix has produced dozens of video game adaptations over the years, most notably The Witcher, Sonic the Hedgehog, Castlevania and a Resident Evil movie. It is also currently working on movies based on two Ubisoft properties: The Division and Beyond Good & Evil, as well as an Assassin's Creed series.
Resident Evil: Welcome to Raccoon City, which is currently in cinemas, is a reboot of the Resident Evil film franchise and features an origin story faithful to the first two entries in Capcom's survival horror series.
Taking place on a fateful night in Raccoon City in 1998, the film is written and directed by Johannes Roberts (47 Meters Down).