Netflix is reportedly developing a Pokémon live-action series
Lucifer showrunner Joe Henderson is said to be attached as writer and executive producer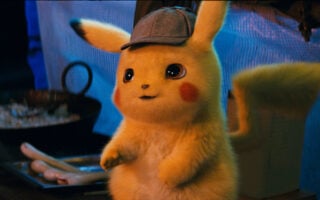 Netflix is reportedly working on a new Pokémon live-action series.
According to Variety, the project is in the early stages of development.
The site's sources claim it will be written and executive produced by Joe Henderson, who is currently co-showrunner and executive producer on Netflix's fantasy superhero series Lucifer.
Detective Pikachu (pictured), a live-action Pokémon movie starring Ryan Reynolds and Justice Smith, released in 2019.
Smith said in May that he doesn't think a sequel is going to happen.
Netflix confirmed earlier this month that it's in "the early stages" of further expanding into video games, building on its earlier efforts around interactive television like Black Mirror Bandersnatch and its Stranger Things games.
Games will be included in members' Netflix subscription at no additional cost, the company said, and initially it will be "primarily" focused on titles for mobile devices.
"We view gaming as another new content category for us, similar to our expansion into original films, animation and unscripted TV," the company said in its second quarter earnings results.
"We're excited as ever about our movies and TV series offering and we expect a long runway of increasing investment and growth across all of our existing content categories, but since we are nearly a decade into our push into original programming, we think the time is right to learn more about how our members value games."