Netflix has rolled out its mobile gaming service to Italy and Spain, adding new games
The Android games are free as part of members' subscriptions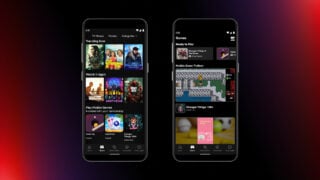 Netflix has continued its expansion into video games by rolling out its mobile game service to more countries.
The company kick off the first step of its video game service last month by letting Polish subscribers access two mobile games.
The games – Strangers Things 3 and Stranger Things 1984 – were previously paid releases on mobile, but now Polish Netflix subscribers can download the Android versions for free.
On Tuesday, this service was also rolled out to Netflix members in Spain and Italy, giving them access to the Android Netflix app's 'Games' category too.
On top of this, Netflix also added three new games to its library, bringing the current total to five.
The new titles, which have also been added to the existing service in Poland, are:
Card Blast (by Wipeout Rush developer Rogue Games)
Shooting Hoops (by Canadian developer Frosty Pop)
Teeter Up (also by Frosty Pop)
The news of the rollout to Italy and Spain came just as Netflix officially acquired its first game studio, Oxenfree developer Night School Studio.
The company officially confirmed in July that it was expanding into video games as part of a report on its financial results for the period.
It said it was currently "in the early stages" of expanding into games, building on its earlier efforts around interactive television (like Black Mirror Bandersnatch) and its Stranger Things games.
Games will be included in members' Netflix subscription at no additional cost, the company said, and initially it will be "primarily" focused on games for mobile devices.
Netflix promises that any games downloaded as part of a Netflix membership will have no ads, no in-app purchases and will be available at no extra cost.
When the mobile service was first made available to Polish subscribers last month, the official Netflix Geeked Twitter account said: "It's very, very early days and we've got a lot of work to do in the months ahead, but this is the first step."