Netflix has released a new trailer for its live action The Witcher prequel series
The Witcher: Blood Origin will hit the streaming platform on Christmas Day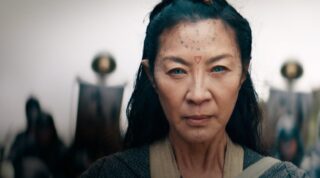 Netflix has released a new trailer for its live action The Witcher prequel series, which is viewable below.
Announced in July 2020, The Witcher: Blood Origin is a four-part series starring Michelle Yeoh, Sophia Brown and Laurence O'Fuarain.
"Set in an elven world 1200 years before the time of Geralt, Yennefer, and Ciri, The Witcher: Blood Origin will tell a tale lost to history: the creation of the first prototype Witcher, and the events that led to the pivotal Conjunction of the Spheres, when the worlds of monsters, men, and elves merged to become one," according to Netflix.
The Witcher: Blood Origin | Official Teaser Trailer | Netflix
The Witcher: Blood Origin will debut on the streaming service on December 25.
It was confirmed last month that Henry Cavill will step down from his role as Geralt of Rivia following season 3 of Netflix's The Witcher series. The Hunger Games star Liam Hemsworth will take over the role for season 4.
On Thursday Netflix also released a new trailer for Dragon Age: Absolution, and confirmed that the six-part animated series will be released on December 9.
Last month, game developer CD Projekt Red announced plans for a new trilogy of Witcher games, Witcher spin-offs, a Cyberpunk 2077 sequel and the studio's first original IP.
More recently, it confirmed that a "full-fledged remake" of the original The Witcher game had entered production using Unreal Engine 5.