Netflix has acquired Cozy Grove studio Spry Fox
The Triple Town and Alphabear developer is Netflix's sixth in-house games studio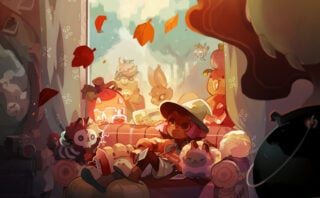 Netflix has announced the acquisition of Seattle, US-based game development studio Spry Fox.
The developer behind titles including Cozy Grove, Triple Town, Alphabear and Road Not Taken has become Netflix's sixth in-house games studio.
Netflix, which is approaching its first anniversary of launching games in November, confirmed the deal in a blog post on Monday.
Cozy Grove launch trailer
"When David and I founded Spry Fox twelve years ago, our goal was to create a place where kind, creative people could make beautiful, original games in a supportive environment that brought happiness to the people who played them," said studio co-founder Daniel Cook.
"After many heartfelt conversations, we are all excited about joining Netflix as an in-house game studio and building amazing games together."
In a post on its website, Spry Fox said its existing games will remain downloadable and available in their existing forms on their current platforms.
On the subject of future games, it added: "Everyone at Spry Fox was already focused on making Cozy Grove 2 as well as a larger, non-violent MMO that we still haven't revealed much about publicly, and that is still the case. So there's no change in our current development efforts."
It was announced last October that Spry Fox had partnered with Epic Games for what was billed as its most ambitious title to date.

Built with Unreal Engine, it was described as a "non-violent, persistent multiplayer game designed to encourage friendship and reduce loneliness in the world".
Netflix announced earlier this month that it was opening a new game development studio led by former Overwatch executive producer Chacko Sonny.