NetEase publicly tears down World of Warcraft statue following Blizzard rift
The Chinese company has been vocal about its anger at the partnership's collapse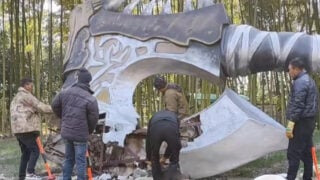 Chinese company NetEase has torn down a World of Warcraft statue outside its headquarters in an apparent symbolic gesture aimed at Blizzard.
It was announced in November 2022 that Blizzard's games were set to be shut down in China in January 2023, after it was unable to come to an agreement with NetEase over a renewal of its licensing deal.
At the time, NetEase head of partnerships Simon Zhu claimed on social media: "One day, when what has happened behind the scenes can be told, developers and gamers will have a whole new level understanding of how much damage a jerk can make."
The conflict has seemingly not been resolved since, as in recent days NetEase has been vocal again about its anger, including reportedly live streaming the teardown of a World of Warcraft statue in the grounds of its Hangzhou headquarters.
According to Chinese esports caster Alan Gai, NetEase dismantled the statue on Wednesday, streaming the process via its official Naraka Bladepoint channel.
The incident was then captured by Chinese TikTok channel ChaikingNDS, which also showed participants being given special 'Blizzard Green Tea' drinks as a reward.
In China, 'Green Tea Bitch' is a stereotypical insult that originated on social media, and describes a person who appears innocent and sweet but is actually fake, immoral and manipulative. The teas, therefore, appear to be a jibe aimed at Blizzard.
The demolition of the statue came a day after Blizzard posted a message on its official Weibo page stating that it would shut down all Blizzard games in China on January 24.
NetEase responded with its own statement, accusing Blizzard of proposing a six-month extension with NetEase while at the same time trying to arrange a new three-year contract with other potential partners.
Using another Chinese phrase, NetEase described Blizzard as 騎驢找馬, a term which translates to "riding a donkey while looking for a horse" – in other words, trying to stay with NetEase while looking for a more attractive deal.
In August 2022, it was claimed that Blizzard and NetEase had cancelled an unannounced World of Warcraft mobile game following a financial dispute.
Other Products
Some external links on this page are affiliate links, if you click on our affiliate links and make a purchase we might receive a commission.