Near complete Half-Life: Alyx 'comparable in size to Half-Life 2'
80 people currently working on the game, which isn't expected to be delayed
Development of Half-Life: Alyx is almost complete ahead of the game's planned March release.
During a Reddit AMA on Wednesday, Valve said it was confident of meeting the highly anticipated title's previously announced launch window.
"With the exception of some tweaks to the absolute final scene, the game is done," it said. "Lots of us at Valve, as well as playtesters, have played through the entire game multiple times.
"Right now we're primarily polishing and fixing bugs, which is where we'd hope to be at this point in the development cycle. We're confident we'll hit our intended release."
Valve also said: "Our locomotion and comfort features are all done, including things like Seated, Left-Handed mode, etc. We have almost all our accessibility work done as well, but there's a little bit more we'd like to do there (support for one armed play, for instance)."
The company revealed 80 people are currently working on the title, "the largest single team we've ever had at Valve," and said the game is similarly sized to Half-Life 2.
"Playtesters have taken a similar amount of time to complete Half-Life: Alyx as they did to complete Half-Life 2. The games are comparable in terms of total amount of content."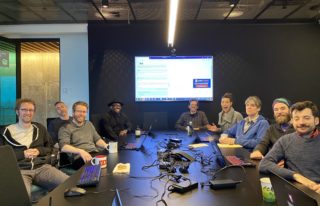 Valve was also asked why it had maintained its silence about the series for so many years before Half-Life: Alyx's announcement.
"Half-Life isn't like Fight Club- there was never a first rule of 'we must never speak of it!' over the last decade or so," it said. "The real answer is super simple: We didn't talk about Half-Life for a long time because we weren't actively working on a Half-Life game.
"Once Half-Life: Alyx became a reality internally, it was already clear to us that this was something we wanted to involve the community in. We're going to be doing more of this in the next few weeks as we prepare to launch it!"
Valve intends to release some Half-Life: Alyx gameplay videos soon, which will also show off various locomotion options.
"It's our plan to release gameplay videos in the leadup to launch," Valve said. "Our intention is to use these to showcase not just gameplay elements, but also VR-specific elements like different movement options."
Powered by SteamVR on Valve's Source 2 engine, Half-Life: Alyx will be compatible with multiple PC-based VR headsets. It can be pre-purchased for $59.99 but is free for owners of the Index headset or controllers.
Valve is offering the first two Half-Life games and their expansions free of charge in the run-up to Alyx's release.