NBA 2K21 has added unskippable adverts to loading screens
UPDATE: Publisher plans to fix ads which "are not meant to run as part of the pre-game introduction"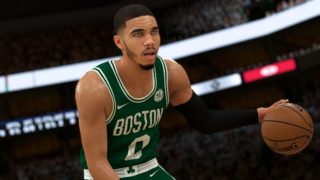 NBA 2K21 has reportedly introduced unskippable adverts which play during loading screens.
Stevivor claims it witnessed adverts playing on pre-game loading screens in the PS4, Xbox One and PC versions of 2K's basketball game, which released in early September. One advert for Oculus Rift 2 lasted for approximately 15 seconds.
Last year's series entry, NBA 2K20, also introduced in-game ads post launch.
A number of players on Reddit take issue with the fact that NBA 2K21 is a full-price release and not a free-to-play title, where in-game advertising such as this is widely accepted.
UPDATE: 2K has released a statement saying it plans to fix the in-game ads which "are not meant to run as part of the pre-game introduction".
ORIGINAL STORY CONTINUES: In September rival sports game publisher Electronic Arts apologised for including in-game adverts during UFC 4 matches.
Post-release, advertisements started appearing as UI overlays during game replays, causing fans to vent their frustration.
EA later acknowledged the community's reaction to the UFC 4 ads and published a statement claiming the feature had been removed and would not reappear in the future.
Earlier this month 2K released the first NBA 2K21 gameplay footage captured on PS5. The title was the first next-gen game to be priced at $70 and other publishers have since followed suit including Activision and Sony.
The game will be released on November 10 for Xbox Series X/S, on November 12 for PS5 in the US, Japan, Canada, Mexico, Australia, New Zealand and South Korea, and on November 19 for PS5 in all other regions.