Naughty Dog has confirmed The Last of Us Part 1's accessibility features
Including audio descriptions for cinematics and haptic feedback for dialogue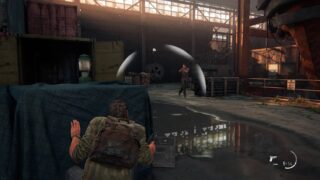 Naughty Dog has detailed The Last of Us Part 1's accessibility features.
Following an earlier leak, the studio has confirmed how the upcoming Last of Us remake expands on the award-winning accessibility options included in 2020's sequel.
"We're expecting this to be an accessible experience for blind players, for deaf players, for players with motor accessibility needs," game director Matthew Gallant said in a PlayStation Blog post.
"The biggest new feature we have are audio descriptions for cinematics. We partnered with Descriptive Video Works, a professional service whose background is TV, movies and video game trailers, and integrated it into the cutscenes and across all our localized languages.
"Another, which started as a prototype but ended up being really successful during playtesting is a feature that plays dialogue through the PS5 DualSense controller as haptic feedback. That way a deaf player can feel the way a line is delivered, can feel the emphasis, along with the subtitles to give some sense of how that line is delivered."
Gallant previously worked on The Last of Us and Uncharted 4. before rising to lead systems designer on The Last of Us Part II and co-heading the sequel's inclusion of over 60 accessibility features.
A full list of Part 1's accessibility features is included in the PlayStation Blog post.
Naughty Dog has also released the new footage below, which compares how the Capitol Building appears in The Last of Us Remastered for PS4 and Part 1 for PS5.
The Last of Us Part I will be released for PS5 on September 2, with the review embargo lifting on August 31 at 8am PT / 4pm BST.
The game is also in development for PC, and while a release date has yet to be confirmed, one Naughty Dog employee has claimed it will arrive "very soon after" the PS5 version.
Related Products
Other Products
Some external links on this page are affiliate links, if you click on our affiliate links and make a purchase we might receive a commission.