Naughty Dog is staffing up for a multiplayer game
The Last of Us developer previously said it would release Part 2's online mode separately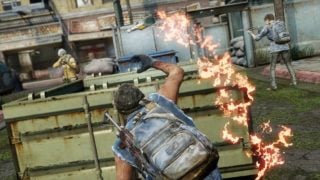 The Last of Us developer Naughty Dog is staffing up for a multiplayer game, a new job ad has revealed.
As reported by Gamespot, the PlayStation-owned studio is advertising for an "economy designer" to work on a multiplayer game with live operations and player progression.
The job ad says the successful candidate will help Naughty Dog "create avenues for self-expression for our players, ensure robust longevity to our games, and give our players great rewards to strive for."
The role could suggest that work on The Last of Us Part 2's multiplayer component is continuing at the Santa Monica, California-based developer.
Game director and Naughty Dog co-president Neil Druckmann announced in September 2019 that Part 2 wouldn't include a multiplayer component as originally planned because the studio "wanted to take all of the resources to make this the biggest game we've ever done".
However, in a follow-up statement, Naughty Dog pledged to release a new The Last of Us multiplayer offering after its work on the sequel was complete.
"You will eventually experience the fruits of our team's online ambition, but not as part of The Last of Us Part II," it said.
"When and where it will be realized is still to be determined. But rest assured, we are as big a fan as Factions as the rest of our community and are excited to share more when it's ready."
Footage of what appeared to be an updated version of the original game's Factions multiplayer mode leaked last year.
The footage briefly shows an in-progress battle in a snowy location. One player takes cover behind a tree and a vehicle in order to craft an item but they're interrupted by a melee attack before their assailant is downed by another player with a bow and arrow.
Beyond The Last of Us Part 2, director Druckmann has said Naughty Dog could work on The Last of Us Part 3 or an entirely new IP.
Following its release, The Last of Us: Part 2 broke multiple PlayStation sales records and cleared four million copies worldwide in three days, making it the fastest-selling PS4 exclusive to date.
Game of Thrones actors Pedro Pascal and Bella Ramsey have been cast as Joel and Ellie in HBO's The Last of Us series, it was recently confirmed.