Naraka: Bladepoint will be the first Unity game to use DLSS technology
Nvidia's popular upscaling feature provides 4K visuals with better frame rates than native 4K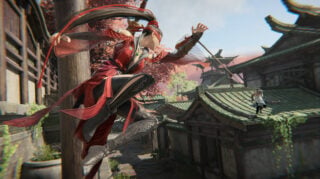 Naraka: Bladepoint will be the first Unity engine game to make use of Nvidia's new DLSS graphics technology.
DLSS is an AI-based rendering technique that lets less powerful PCs run games on higher resolution screens.
Available on Nvidia's RTX 20 and 30 series graphics cards, DLSS can upscale an image to 4K that looks nearly identical to native 4K, but uses up far less processing power.
As a result, games that usually run on native 4K can enjoy significantly improved frame rates, as the graphics card struggles less to process the image.
An open global beta for Naraka: Bladepoint will launch at the end of April, and this beta will have DLSS tech included.
Unity only announced on Thursday that its engine would natively support DLSS by the end of the year.
"With just a few clicks, [developers] will be able to activate DLSS in Unity and choose between various quality options to get a boost in performance with equivalent, if not better, visual quality," said Unity's Mathieu Muller in a video update.
Previously the DLSS feature was limited to just a few games, but with the introduction of DLSS 2.0 last year, Nvidia said the AI behind the upscaling did not need to be trained specifically for each individual title.
According to a Digital Foundry analysis, DLSS 2.0 at any normal screen distance "looks almost as good as the real thing."
Alex Battaglia wrote of Control's DLSS last year: "The quality of the image reconstruction is so good, you'll have a hard time noticing whether it is on or off – and aspects of the image can look even better than native rendering, simply because DLSS doesn't feature some of the deficiencies found in some temporal anti-aliasing solutions."
He added: "Over the years, we've examined pretty much every 'smart upscaling' solution on the market and based on the upscaling ratios we're working with here, DLSS is delivering the best mixture of image quality and performance improvements."