Nacon is making a survival game set in The Terminator universe
The open-world game will be coming "in the distant future"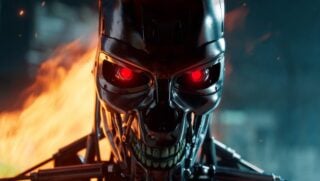 Nacon has announced that it's working on a survival game set in the world of The Terminator franchise.
The publisher showed a very brief teaser trailer during its Nacon Connect presentation, which shows a T-800 endoskeleton looking at the camera.
The game will be handled by Nacon Studio Milan, which most recently developed Rims Racing.
Nacon stresses that the game is in the very early stages of development, suggesting players may be waiting some time for the finished product.
Terminator survival project - reveal trailer
"Just a tease for the future, but if you couldn't tell, we're big fans of 80's movies, and our team at Nacon Studio Milan is working on the first survival game set in the Terminator universe", the studio said in a blurb accompanying the teaser trailer.
"We can't say much more for now, but this is definitely something to keep your eyes on."
A message on Nacon Studio Milan's website sheds a little more light on the project.
"As revealed during Nacon Connect, we're thrilled to announce that our next big project will be set in the world of Terminator, one of the world's most popular and iconic film franchises," it reads.
"The game takes place in a post-apocalyptic open world and features an original story that builds on the events of the films. You play as a group of nuclear apocalypse survivors fighting to stay alive in a time period between Judgment Day and the creation of John Connor's resistance."
Elsewhere in Nacon's presentation, another classic '80s action movie character got a game trailer of its own.
A gameplay trailer for RoboCop: Rogue City, due for release in June 2023, confirmed that Peter Weller will return to play the lead role for the first time since 1990's RoboCop 2.