Motorstorm's PS3 multiplayer has been resurrected by a fan group
The non-profit PSONE team has set up a private server anyone can join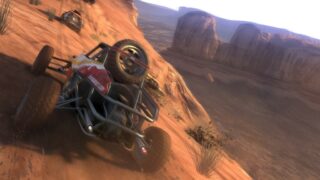 A group of PlayStation fans has managed to bring back the online multiplayer mode in PS3 launch title Motorstorm.
The popular off-road racing game's online servers have been offline since the early 2010s, and with no offline multiplayer mode included, players have been limited to single-player ever since.
This has now changed thanks to fan group PlayStation Online Network Emulated, or PSONE for short.
The team has managed to emulate Sony's servers and create their own server that anyone can connect to.
Players must own a PlayStation 3 and a copy of Motorstorm. They can also use a PS3 emulator, but will have to be whitelisted on PSONE's Discord server to prevent abuse of the system.
Then they have to change their console's network settings by changing their primary DNS to 185.194.142.4 and their secondary one as 8.8.8.8 or 1.1.1.1.
By doing this, the game will connect to PSONE's own servers rather than attempting to connect to Sony's now deactivated ones.
PSONE also supports a number of other PS3 games, including Warhawk, SOCOM Confrontation, Killzone 2, Twisted Metal Black and Calling All Cars.
It's currently in the process of trying to add more games to its server, including Resistance, Wipeout HD and Ratchet & Clank: Up Your Arsenal.
It's even working on resurrecting PlayStation Home, the PS3's free virtual world.
Players keen to try the service out can visit the PSONE site to see how it works. The group stresses that it is not affiliated with Sony, and refuses to take donations or any other money for its work, as it's purely a preservation project rather than a commercial one.
Related Products
Other Products
Some external links on this page are affiliate links, if you click on our affiliate links and make a purchase we might receive a commission.