More of the Battlefield 6 reveal trailer has reportedly been leaked
EA recently confirmed that the game will be officially unveiled in June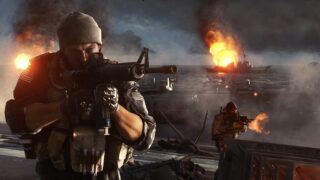 A large collection of low-quality images allegedly originating from the upcoming Battlefield 6 reveal trailer have found their way online.
In the latest in a series of leaks ahead of the game's official reveal, tens of new screengrabs believed to be taken from the trailer have been published on sites including Imgur.
The images, which are partially obscured by a LOL guy meme, have also been placed in a sequence designed to provide a better idea of how the trailer might look when it's released.
Influencer Tom Henderson, who has published several Battlefield 6 reports over the past few months – some corroborated by journalists – acknowledged the latest leak on Sunday, seemingly confirming the images are from the game's reveal trailer, which he claims to have seen.
"Woke up to even more #BATTLEFIELD leaks," he tweeted on Sunday. "I'd say that we've now seen 80% or so of that trailer as a lot of the scenes leaked are all 5+ secs in length."
Henderson claims DICE's upcoming shooter will be set 10-15 years in the future and simply be called Battlefield.
Publisher Electronic Arts confirmed earlier this month that Battlefield 6's reveal trailer will be released in June, and that the game will be a cross-gen title when it hits consoles and PC this holiday season.
A senior EA communications director also sympathised with fans frustrated by the extended wait for Battlefield 6's reveal, but pleaded for a bit more patience.